Izzy Makani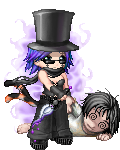 Last Login: 01/15/2017 8:33 am
Registered: 06/19/2004
Gender: Female
Location: In a place I never thought I'd be...
Birthday: 06/12/1987
Randomness

o.O
When You've Gone Insane
When you've gone insane
Here's what you do
Stay away from planes
And paint yourself blue
Get wrapped in Saran wrap
And bathe in perfume
Roll in some tree sap
Plant bombs in your room
Buy some small boxes
Filled with apple pealing
Eat a dozen loxes
Get glued to your ceiling
This is what you should do
When you go insane
You were hit on the head
Go examine your brain
(Poem found on the internet years ago. XD)

All of my pets also known as the official rebuilders of Hawks Haven the bar. (On a randomizer. Refresh to see a different one)
Quote:
"I have never lied to a toaster and I won't start now." -Jupiter Sabre

This message is brought to you by... Weed!
It's in your yard. Go Pick Some!
Also by Captain Boomerang & Spunky the Squirrel! Wronging the rights!
And the members of Crazy Persons Incorporated. Crazy? So
are we.