IttyBittyGrimmKitty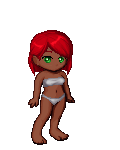 About
Female, 22, US.
Girl who likes to play video games and watch anime/read
manga. And I like to cosplay in my free time at
conventions.
Interesting (not really) Facts:
»
I speak Chinese (plus write it)
I feel much
shame because I haven't kept up with it and have to start
studying again
»I would rather spend time playing my Ocarina than writing
this.
»Awkwardly pretty
»Have a genetic condition that has made my chest area a 34 K
cup and is still growing.
»I have hair so amazing people spread rumors it's a wig and
other people believe it.
»High retention rate which makes learning languages easier
(learning Japanese)
. Got shot down since
it's not part of my Major and doesn't cover my other
Humanities class.
You can ask if you want to know more stuff.
December 25, 2012
February 21, 2014
Multimedia
Signature