Isana Matsukaze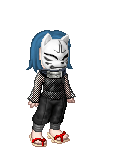 Registered: 08/09/2010
About
Matsukaze Isana.

- Adult Human -
D.O.B: May 3rd.
Isana\'s Voice.
5'6
121 lbs.
An ex-military general, now a wandering ronin who carries errands and often is around friends. Entirely prefers not working under anyone and is her own master.

//

Hometown: Hayashi Village, located in the middle of a forest with thick woods.
Currently living: Shinsekibara Village, a popular village in the mountains for marketing.

//

Offense type.
Samurai Swordsman, skillful with the katana closed-ranged tactics, also a combant.
Specializes in hand-to-hand combat, Judo and samurai sword tactics(kendo.)
Uses the wakizashi for quicker movements, but she isn't known for speedy footwork, but entirely prefers the katana.
Her weaponry skills are inherited from her parents who were both samurai soldiers and her training throughout her childhood.





"A lonely dragon that hid in the strong storms, and only came out at devastating stormy days, seeking a worthy warrior capable of sealing it's power within them."

A holder of a old power known as

Black Dragon Art

which once belonged to Dragon, then a ninja. The tattoo on Isana's arm depicts the image.
While the main element of this power is unknown, a

lightning

and


fire

element is usually used with her attacks, as she usually uses them into her combat style.
Most of the attacks are "fire-based", but some attacks seem to use some sort of visible black energy.


//

Personality

The complete opposite from her brother Sasuke, who is rather proper, a clean-freak, prefers being safe and doesn't fight at all.

Quite a rash woman, who often slacks off and is lazy. Though, she's pretty much laid-back and relaxed, Her facial expressions and emotions are nearly all emotionless, having an emotionless yet a slight-serious looking expression on her face, many presume that is her "bored face". She doesn't express much emotion, but my show off a little anger here and there and even joke around on a rare occasion.
Isana forgets important details as she doesn't store details or pay attention to them much, so she isn't a good person to ask about information or make decisions, it's hopeless. She enjoys drinking in her spare time either by herself or with her partner, Masamune. So, not many knows she drinks and she doesn't tell alot of people.
She doesn't fight unless it is

exactly

necessary, perhaps if there is a threatening enemy, but a spar is fun every now and then. As for a appearance, she really doesn't care about the revealing appearance, she finds it less-restricting on her upper body when fighting or doing other tasks, while she equips armor on her lower body. Overall, the woman is friendly upon approaching.

Likes: Cold weather, drinking, eating(She really loves spicy food.), cats- most animals, socialization and peace.

Dislikes: Annoying people, dogs, her brother playing the shamisen 24/7.