About
"Perfection is the disease of a nation." -Beyoncé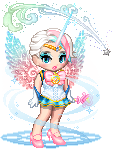 SONG: 'Missing You' - 2NE1

Waddup bitches!

This is my mule account, but I use it MUCH more than my main.

This is my main account.

I love K-Pop, especially Girls' Generation. I love Sailor Moon and I think Ke$ha is pretty badass for being herself no matter what other people think.

My boyfriend is Korotai-chan and he's such a cutie!

If you wanna know more about me, just ask me! I'll answer any question that doesn't violate the ToS.
Friends
Viewing 12 of 60 friends
Journal
Random Tidbits
...
Multimedia
Signature
Me in 5 years now.