Insanity_Of_The_loveless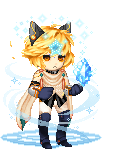 Details
Member Since

11/29/2005
Location

In the space between you and I.

Birthday

04/01

Website
---
Interests
Hobbies/Interests
About




.My name is Zero or you might even know me by the name of Seth.



Pee-Oh Pee-Oh
October 10th, 2008
R.I.P.
He was my lovely little bird, I miss him.



.About Me?.


There's not much that you really need to know. I am a very nice person when I want to be and a couple of years back I was a cruel son of a b***h. But, I managed to get a wonderful partner that somehow managed to change me to the person I am now. I am a twenty year old, who's in college trying to get a degree in art majoring in Media Arts and Animation at the Institute of Art. My hobbies are drawing, being online on deviant art and other websites and sometimes when I am not lazy doing my hair. I have very select few of friends online and even fewer in real life. I am into the Japanese style called Visual Kei and I enjoy Jrock. Now, more over where I live I enjoy techno and other rock, some rap but I am not too fond of it all the time. If you ever want to check out where I am on Gaia, I am usually in my Art Shop with my regulars who have become my family. Why don't you stop by?

Journal
Loveless Thoughts And Things