Inryoku Kokoro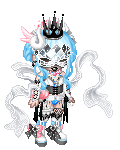 Gender: Female
Location: I forgot...maybe I'm lost?
Forums
Posts per Day: 7.23
Total Posts: 20899
Journal
Ramblings and spazziness and ADD and stuff
Who knows, I sure don't.
Interest Tags
Favorite Movies/Anime
Favorite TV Shows
Favorite Reads
Favorite Music/Bands
Hobbies/Interests
About
THINKING ABOUT COMMENTING TO SAY THANKS FOR BUYING? DON'T. I BUY LOTS OF ITEMS ALL THE TIME. I DON'T CARE WHO I BUY FROM.
Have a nice day~~
Current mood: (status removed)

Current avatar theme: idk



PAST AVATARS IN JOURNAL =D



I am female and I'm 24 years old.
Yay for me.
Oh and I like being sarcastic, it's amusing to me.
Sorry if I end up killing your thread...>>;
I don't really care who I buy from and who I sell to on the marketplace. :l


[20:56] inry: *kicks a puppy*
[20:56] holli: xD
[20:56] haley: LOL
[20:56] holli: *loves on Inry*

[22:09] katie: inry is like.. bad advice dog


Current manga reading list:
07 Ghost, Axis Powers Hetalia, Bleach, D.Gray-man, Durarara, Excel Saga, Franken Fran, Great Teacher Onizuka, Hellsing, Highschool of the Dead, Kekkaishi, Kingdom Hearts II, Kobato, Kuragehime, Legal Drug, Loveless, Mahou Sensei Negima, Onidere, Ral Ω Grado, Rozen Maiden, Sayonara Zetsubou Sensei, Sketch Book, Soul Eater, Usagi Drop, Wallflower, XXXHOLiC, and Yotsuba&!.


Manga I have finished reading:
Angelic Layer, Azumanga Daioh, Chobits, Clover, Death Note, Fooly Cooly, Fruits Basket, Full Metal Alchemist, Gokusen, Gundam Wing, Kingdom Hearts, Kingdom Hearts: Chain of Memories, Love Monster, Miyuki in Wonderland, Sailor Moon, The Devil Does Exsist, Tokyo Babylon, Tsubasa Reservoir Chronicle, and Wish.

Current book reading list:
The Light Fantastic - Terry Pratchett

Other Reading List (School):
Self Reliance - Ralph Waldo Emerson
On the Duty of Civil Disobedience - Henry David Thoreau

Recently Read Books:
The Color of Magic - Terry Pratchett
Benjamin Franklin's Autobiography
Making Money - Terry Pratchett
THUD! - Terry Pratchett

Current art projects:
random and weird avatar art, chalk shadows

Current craft projects:
Random plushies
Felt food

Current Quest:
Inks and bugs
random things in my wishlist






Decorated in lights and surrounded by traffic cones
There was a car crashed wrapped around a telephone
Pole with a soft layer of fire fighter's chemical foam
The stranger's favorite song still playing on the radio

Nobody knows the trouble I've seen
The trouble I've been through

And as the ambulance takes her to the hospital
The only words she can say are can you take me home
Before her spirit escapes her as a soft blue glow
Oh no...

Nobody knows the trouble I've seen
The trouble I've been through

And we'll be dancing at her funeral
Dancing at her funeral

Now they're digging a hole
Cutting her name in stone
Sending out invitations to her friends back home
Digging a hole
Cutting her name in stone
Oh no...








All hail the Hypno Hello Kitty!






Art I have received and bought!
<3 <3 <3

x x x x
x x x x
x x x x


Art I've done!
x x x
x x x
x x x
x
Wish List