Journal
A fallen angel's journal
Well, this will be a first time ever. Writing a journal of this very symbolic and specific experience. I will know what it will become when it is finished ... it will grow and expand as much as I want it to. It will be made by me, for me and some r
Interests
Favorite Music/Bands
Hobbies/Interests
My Playlist
You currently have zero playlists!
Things I would like to own ... not requesting donations at all ... just a few things I like ...
~~~~~~~~~~~~~~ Infernus Angelus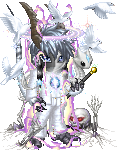 Registered: 12/28/2005
Gender: Male
Location: PARIS-France
Birthday: 11/18
Occupation: Director of a theatre company
So, Let's start this wonderful Gaian adventure ...
Let me see ... hummmm ... and think .... I had a dream of a land of sorrow made one by the power wielded by an unknown king of old ...

Old Europe sees me wandering and wondering...

I love this way of disconnecting the not that much attractiveness of real life, so I now feed on the juice of the Gaia Land, waiting for nothing but excitement ...
My Aquarium
What I'm wearing at the moment ...
Signature : This one was made by Exxos, Thanks mate !