Inei Alumei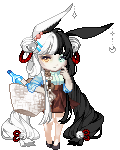 Details
Gender

Female

Birthday

08/14
---
Interests
Favorite Movies/Anime
Favorite TV Shows
Favorite Music/Bands
Hobbies/Interests
About

Name's Sichyun, though I prefer Skyro. I come from Canada, and like anime, manga, some manhwa, kpop, jpop, everything like that. Currently liking a LOT of stuff.
Also waiting on uta no prince sama season 3. CAN'T.WAIT.
Friends
Viewing 12 of 58 friends
Journal
Random stuffs
Some stuff I write when I'm bored and what not.