About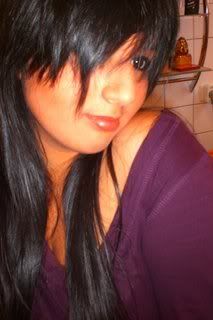 I greet you mortals.
♠ Alright, well first of all I'll let you know I had a badass long 'about me' section. After a while I thought nobody reads it anyways so I got rid of it.
♠ I have a name. My name is Shivani && I'd like you to call me by my name.
♠ I like to write. No, I LOVE to write. Poems, short stories and the occasional sophisticated statement.
My Life in short;


cigarettes, books, writing, friends, music, family, anime, procrastination, vanilla coke, internet, studying, && more cigarettes.
♥ Cigarettes...
... I need to survive.
♥ Books....
... I must read in order to escape reality and live a fantasy.
♥ Writing....
... is my way of vending my feelings & putting inspiration into words.
♥ Friends...
... are my antidote to boredom & I love them.
♥ Music...
... is the hearts' language & don't they always say; "Listen to your heart!"?
♥ Family...
... people I have to put up with every day, yet they own my unconditional love.
♥ Anime...
... Some call it addiction, others call it obsession. I call it affection.
♥ Procrastination...
... I plead guilty.
♥ Vanilla Coke...
... I'm lovin' it!
♥ Internet...
...I use it for various things. Unfortunately I had to stop gaming, my laptop could take no more.
♥ Studying...
...
Physics.

... Psychology.
___________
In love with me yet? No?
Add me on

skype

anyways; playa_chan
___________





Friends
Viewing 12 of 24 friends
Signature

♥♥ CLick me & Share The Random! ♥♥
DO NOT CLICK[ _ ♥ _]

♥ Questing// ♥



3/500
Next Item For Keeps:


Secret Retreat.