About
oh hai.

I'm 62 Barton 002296. Stalk me?
Me

___
___ I'm 22 years old and was born on May 30th.
___I make art.
___I want to write a book of fairy tales.
___I love Saturday morning cartoons and milk and cookies.<3
___I'm a pokemon masta.




Interests

___
___I like rock, oldies, classical, and forgein in music.
___My favorite bands/artists are L'Arc~en~Ciel, The Beatles, FAKE?, Oblivion Dust, Oasis, Radiohead, the pillows, The Zombies, and Muse.
___My favorite movies are American Psycho, K-Pax, Eternal Sunshine of the Spotless Mind, Yellow Submarine, Back to the Future, All About Lily Chou-Chou, Big Fish, The Prestige, and The Illusionist.
___My favorite books are Harry Potter, The Picture of Dorian Gray, The Chronicles of Narnia, Slaughterhouse-Five, Battle Royale, Dr.Jekyll and Mr.Hyde, Brave New World, and The Bell Jar.
___My favorite TV shows are LOST, Buffy the Vampire Slayer, Twin Peaks, Doctor Who, Community, and Parks and Recreation.

Friends
Viewing 12 of 29 friends
Journal
Indi's Art Archive
I'll post all the art I have bought/received here. :3
Signature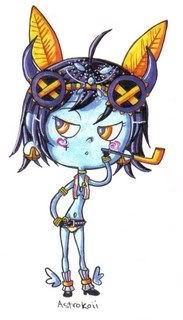 art by Astrokoii