About
COMMENT|MSG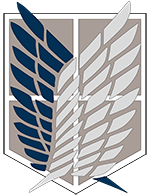 The driving force of the plot and story as it is the branch of the Military most actively involved in Titan combat and human expansion. Despite having little to no success, they still symbolize 'the hope of mankind', their insignia being known as 'the Wings of Freedom'; they hope that someday, their efforts will change the world known for humanity's better, and recover what had been lost.
Current name

:

ImaVillain

Gender:

N/A Original name: Da_King_Striker


Goal:

To get you lost in my eyes. (-:


Just feel free to talk, vent to me anytime.
__________________________________________
Contacts:




Fellow friends:


BAM
CtrlAltDel
GubbleGum<3
Azure_Chinggy
xX-FairLili-Xx
oblood

Family

:

I-Iarlot


Dampas
KinkyUke
Aki


Dante


Heenain


Master of Constellations


Lin Bei Fong
Ruki 911
Grim [love]
Teddies
[to be determined].






FANART
(1)
(2)




Extra notes:
The miles I've gone for those who have stood by my side means nothing.
For every character I click and erase reflects the words I would have said and already done.
Multimedia