Im not your princess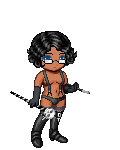 Last Login: 12/06/2013 9:21 pm
Registered: 08/17/2010
Gender: Female
Birthday: 07/14/1994
Equipped List
Interest Tags
Favorite Movies/Anime
Favorite TV Shows
Favorite Reads
Favorite Music/Bands
Hobbies/Interests
Wish List
About
Hey it's me, I'm just you everyday girl who like to play video games and read a good book. I also enjoy dancing and singing off tune, I'm trying to become a novelist and get into the writing business and such.I love to role play, I warn you though I do have a bad case of writer's block at the moment.

I can't wait to hangout with you!!!

Journal
The Characters that haunt my mind.
Just thought it would be better to relocate all of my role play characters into my journal.
Signature