Im not your princess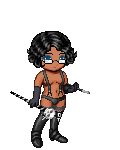 Last Login: 09/16/2014 8:17 pm
Registered: 08/17/2010
Gender: Female
Birthday: 07/14/1994
Equipped List
No items equipped.
Interest Tags
Favorite Movies/Anime
Favorite TV Shows
Favorite Reads
Favorite Music/Bands
Hobbies/Interests
Wish List
About
Hey it's me, I'm just you everyday girl who like to play video games and read a good book. I also enjoy dancing and singing off tune and baking, I'm trying to become a novelist and get into the writing business and such.I love to role play, I warn you though I do have a bad case of writer's block at the moment, I have tons of characters to work with and I'm pretty much up for anything. At the moment I'm trying to lose weight so I can look better in my clothes and try my hand at cosplay so far I've gone from 200lbs to 185lbs so excited!

I can't wait to hangout with you!
Signature