About
Heeeeeeey there!!!! I'm iLunar Kitten obviously... I love Gaia I've been playing it since 07' and lovin it. My two best friends are Darknight_9293, and Surikaina so be nive to them or I'll destroy ya!

I'm on Gaia almost every day, but I have a job now so I might not be on everyday. I usually play zOMG, Pinball, or OMGPOP's Baloono for fun. I like poking around in the forums too, I help in the Q&A not as much as I used to but I'll still help from time to time.



I love random comments and Pm's, so don't be afraid to leave me one or two. :3nod


*If you want to bargain for a cheaper sold item in the marketplace don't be afraid of asking, usually I'm lenient, but within reason.
*I hate beggars so don't try it, you'll just be put on my ignore list.

Avi Art

ಠ_ಠ

I'll be updating my profile page from time to time I haven't done that in forever, and hoping I can sketch out some updated Avi Art as well~
Friends
Viewing 12 of 45 friends
Journal
Lunar's Little Babbles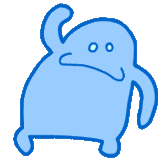 Um.. Well I haven't gotten anything better to do than my art shop, so stop by and buy some ^.~
Multimedia