illogically logical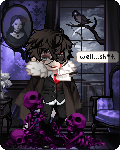 Last Login: 11/30/2015 6:25 am
Gender: Male
Equipped List
Interest Tags
Favorite Reads
Favorite Music/Bands
Hobbies/Interests
Wish List
About
s**t to know.
Name: I don't feel like telling you.
Age: 18
Nickname: Kyo (Pronounced Key-yo)
Sexual Orientation: Non-sexual. In short i means i hate both genders equally in the prospect of dating.


Journal
MyCoNfUsEdEd life @__@
My day to day life
Signature
If I told you your life would be best spent taste testing shotguns would you be pissed?