Illiesyna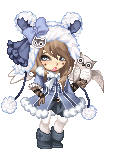 Details
Member Since

04/15/2005
Gender

Female
---
Interests
Favorite Movies/Anime
Favorite TV Shows
Favorite Music/Bands
Hobbies/Interests
About
Wow a profile!
I'm here and there every once in awhile. I don't log on to Gaia as much as I use to. I miss all my old friends.
I'm mostly on
Steam
now playing various games.
MMO-wise I play Tera Online the most on the Mount Tyrannas server.
I am currently addicted to Overwatch. PM me for my tag

I guess that's all I have to say for myself.

Journal
Journal
Multimedia
Signature
♫ "When your best friend's all strung out..." ♫