About
Favorite movie: The lion king
Favorite anime: Fruits Basket
Favorite item on gaia: Lady Chimes, Princess Chimes, Fausto Bottle, Kittenstar
gaia_kittenstar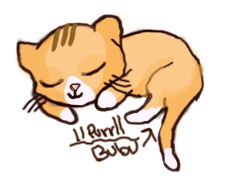 I love cats.
emotion_bigheart
I have two in rl. One of my cats is orange and white reminds me of bubu and kitten star and one is black it reminds me of demon cat. I help out in the local shelter to try and help save animals cause I love them sooo much. You can help too by visiting your local shelter and volunteering. If you have pets please spay and neuter them. It's very sad to see the animals get put down just cause there are not enough homes out there to take them in.
A Few of My Loves: <3
Animals: Bunnies, lambs, kittens, cats, dogs, horses, ponies, unicorns
biggrin
Books: LOTRs, Harry Potter, Last Unicorn,
Movies or TV: The Lion King, Lady In the water, The Village, 50 First Dates, Resident Evil, 101 Dalmations, Walking dead, MLP my little pony.
Sports: Snowboarding, Swimming, Hiking, Tennis.
Actors: Ron Weasley, Elijah Wood, Drew Barrymore, Dallas Howard, Milla Jovovich, Marilyn Monroe.
Countires I either would love to visit or just love: Australia, NZ, USA, England, Africa
Misc Things I like: Books, Disney, cartoons, White, pink and blonde hair, sweets, candy, animals, elephants, lions, Amelthea from Last Unicorn, anime, chi chobits, hearts, love, cupcakes, cakes, sweets, Marie Antonette, Rocco style, Lolita, Dresses, Pink, blue, and mint color, or Pastels, Art of any kind, bows, love hair bows, Light Pastel rainbows, Weddings, Dollfie dolls, barbies, Dr Pepper, Vanilla, Winter, Snow, Gaiaonline, ZOMG, Bootygrab, Cute stuff. Angel from Lilo and Stich series, Marie the Aristocats cat, Nala, Melona from Queens blade, MLP My little pony, Fluttershy, Pinkie Pie, Apple Jack. Walking dead Daryl is my favorite Character.
Signature