II CursedAsian II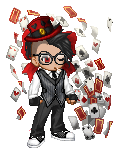 About
Sup. This Is Junior Also Known As Jay.
I Am Filipino And I Live In Ak.
I'm Pretty Young.
I Love To Play Sports Like Basketball and Soccer.
I Like Going Out And Riding My Bike, Skateboard, And Riding My Four Wheeler.
When I'm Not Outside, I Watch Anime Or Get On The Computer.
Ummm....If You Need To Know More Just PM Me Or Leave A Comment.

>>>Nichole Was Here<<<