Fluffie! (: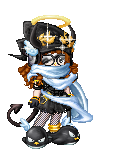 Registered: 09/03/2005
Gender: Female
Birthday: 02/26
Le Information!
I'm Katie. I'm 24. Taken.
Birthday is the 26th of February. In case you're bad with math, the year is 199O. I've gone through some hard times and some awesome times. I'm a hard nut to crack, but honestly, I think I'm worth the time. Anyways. I'm going to break this down very simply:




Likes

: The Used, My Chemical Romance, Music, Video Games, Reading, Painting, Drawing, Writing, Organizing, The Smell of the Ocean, The Smell of the Air After It Rains, The Smell of Freshly Grown Grass, Candles, Sleeping, Dreaming, Going To the Movies, Collecting Movies, Making My Own Library of Books, Scarves, Boots, Shoes, Food/Cooking, Jamming Out in my Car, The Start of Something NEW, Going To School, Cuddling, Romantic Walks, Wine, SoCo, Jager, Witty Comments, Comic Books, True Love, Harry Potter, Pirates of the Caribbean, Shakespeare in the Park, The Princess Bride ( all time fave movie ), Movies About Comic Books, Resident Evil, Final Fantasy, Kingdom Hearts, Disney Movies.
Dislikes

: The Cold, Cigarettes ( the smell, never smoked one ), Bed Hoggers, Complainers, Not Being Happy, Drama, Fake Bitches, Homophobes, Racism, Scary Movies ( unless I have someone who is going to hold me the entire movie /gets scared easily/thinks it is going to happen to her ).



CAN'T STAND

: Liars, Cheaters, People Who Don't Listen, Cigarettes, Final Destination Movies ( even though I've seen them all

), Most Rap, Dead Beat Dads.



Fears

: Revolving Doors, Leather Pants, Clowns, Garbage Disposals, Biscuit/Cans that 'pop' when opened.



Wants

: Belly Button Piercing & Industrial, 3 Tattoos, A New Car.


Completed Wants

: Haircut & Purple Streaks. Lip Piercing. To Go Back To School. ( Enrolled & back in school as of .O1.13.14. !! )



Currently Listening To

: Luke Bryan, Dierks Bentley, Tim McGraw, etc.



Currently Reading

:

Game of Thrones.





Currently Writing

: The Beginning to the Book I am writing.


Stalk Meh!
Posts per Day: 16.96
Total Posts: 56213