About
*I'm kind of a bibliophile.
*I write on my arms so I don't forget things. [the 1818 convention was held between Great Britain and the United States to divide the Oregon territory along the 49th parallel. The only reason I remember that is because I wrote it on my hand.]
*I over-use smilies on the interwebz.
*I like naps.
*I always fall for the people with whom I have no chance.
*I try to avoid prepositions at the end of my sentences.
*I enjoy the occasional thumb wrestle. I'm pretty good at it too. I use the evasion tactic.
*I like diet Snapple tea. But only the peach kind.
*When people can't spell, I lose a little respect for them, especially if they're English teachers. [tommorrow? wtf.]
*I'm a senior in high school.
*I'm not sure what I want to do when afterwards, besides go to school for a very long time.
*Sia is pretty much my favorite artist of all time.
*I don't look forward to growing up.
I WILL KICK YOUR SHIN gave me an OMG box!
KidVengeance gave me 10k!!!

Don't bug her, or I'll smother you in your sleep.
Friends
Viewing 12 of 12 friends
Journal
Silly Random Things
In case something interesting ever happens.
Signature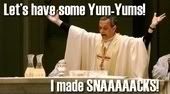 LOL?
LOL's: 7
EPIC LOL's:3