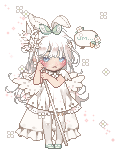 Registered: 07/29/2009
Location: New York City
Birthday: 07/05
We ninnies fo life. 'Kay. ԅ(≖‿≖ԅ)


Gifts
|
Animelist
|
Memories
Hello I'm Angeline, a student from NYC.
I-Exa-I is my best friend in RL.
Introvert, and socially awk.
Luanna Perez is one of my inspirations.
Starbucks & bubble tea = can't live without ♥
Currently in my 2nd year of medical class.
-Hobbies: I draw & read. And study till I puke blood.
Favorite Movies/Anime
Favorite Reads
Favorite Music/Bands