iAngel-Ally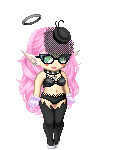 Gender: Female
Birthday: 08/16/1992
Signature
Me

About
Hey my name is Ally. I am 21.
I am in a relationship.
I have been with Him for 2 years.
I like to read, write and draw.
Thing 1 and Thing 2
Did them both on paint, so they arent that good.
I have a Little sis and Niece.
What I looked like before I went blond.
I live on the East Coast.
My favorite animal is, Guess?.
I love, Deadpool and Batman.
I don't mine Spiderman
I do love Doctor Who
I don't do drugs.
I play video game.
I love Monster Hunter.
My Weapons are the sword and shield and the duel blades.
My armor changes depending on the monster.



Human F Potion
Inquisitive Eyes Green
Girl\'s Cutsie Curls Pink (Lite)
Possessed Whispers (Levitation)
Miss Chimes
Kitten Squad Alpha (Tail)
Pink Konpeito (Candied Rain)
Pretty Princess Purple Ribbon Wand
Amethyst And Milk Quartz Headband
Grape Feel Better Lolly (2)
BookFace
Equipped List
Wish List