i wish pokemon was real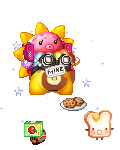 Registered: 06/28/2004
Gender: Female
Location: urmom. o;
WUTZ URMOM WEARING?! O;
I WANT A UNICORN. c:
I AM FCKN INTERESTING.
I GUESS THIS IS WHERE I SAY SOMETHING PROFOUND OR FUNNY.

deconstructing your deconstruction

'kay. i like charmander, but my favorite is caterpie. :]

i want to be a pokemon master when i grow up.

peace out. <3
DN'T INSULT MAI GRAMMAH, ITZ CPU TALK.
Posts per Day: 1.59
Total Posts: 6471
dem s00perleet hoez && homoz <3
DAT FUGLY SHIZ UNDERNEATH MY POSTS.