I s r a f a l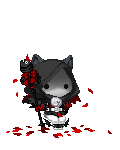 Wish List
About

Hey, my name is I s r a f a l, or you can call me Isra for short.


My real name and location is none of your business. I'm nineteen and currently attending college as a freshman.

I have a wonderful boyfriend who means the world to me. We've been dating for five years now. I have a few select friends on Gaia that I care deeply about. Please be nice to them or there will be trouble. I'm not the kind of person to forgive easily.

I'm generally a nice person but there are days when I'm not in a good mood. Everyone has them, right? I am a Scorpio. I am non-religious (you could say) but I do have strong beliefs in certain things.

You can find me lurking around Barton Towns. I'm always looking for a good roleplay, group or one x one. I don't accept random friend requests, so talk to me first.

Signature

❝ The treachery of demons is nothing compared to the betrayal of an angel. ❞

currently questing art ; freebies are loved.
I love to chat in streams.
call me Srafa.

art by THF