About
Hey I'm Mitsu, Mittenz, Mimisu.
20 years old living in Atlanta GA.
Always recalling my days back in Hawaii..
determined to go to Le Cordon Bleu and open up my own Cafe.
I'm a prety blunt straightforward kind of person most of the time and the other some of the time I'm being a bit cute or retarded.
I dont smoke I dont drink, I dont have time to play risk my life games, and I dont ******** with spirits.
I do roleplay if you'd be interested just keep in mind I'm seriously rusty just send me a pm with a rp start and I'll continue it without a second thought. ( no funny ideas pervs)
I draw yes.. I do draw but dont ask me for art, I'm usually swamped and still working on it. If you knwo me and I owe you art trust me, it's being worked on, I never forget.
Got a pretty good memory and you really dont wat to mess with me so watch yourself or you'll find yourself pwned ina second. Dont mess with my friends because if they dont handle you themselves I'll most likely beat you down with my pixelated words. I'm not a troll I'm simply obnoxious when I dont like you. <3
You'll find me on Iscribble.net if not on Deviantart. Shi is mine....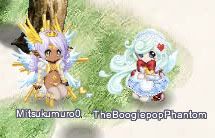 [/quote]
<center><a href="http://www.freewebs.com/foo_nik_kdoi"><font size="5">DONT CLICK HERE!!!</a></center>
Artz sample. dont steal.. Will report...
http://mitsukumuro.deviantart.com/art/Lineart-2-194425519