I EPICLY SHOT YOU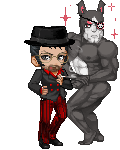 Last Login: 09/08/2015 2:43 pm
Registered: 10/05/2007
Gender: Male
Equipped List
Interest Tags
Favorite Movies/Anime
Favorite TV Shows
Favorite Reads
Favorite Music/Bands
Hobbies/Interests
Forums
Posts per Day: 0.03
Total Posts: 93
About
Welcome! If you want to talk to me. please talk to me here, on youtube, or on Allisbrawl.
Wish List
Signature
I am the secret hero in which no one knows.

I have to save so many, yet I don't know if I can handle this myself.

The real answer is out there, don't give up.