I- ChiiDoLL -I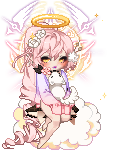 Details
Last Login

05/28/2015 8:29 am

Total Posts

55032
Occupation

Artistic Waifu

Birthday

04/08

Website
---
Interests
About
Current projects

:

✦ Finish auction pieces

✦ Finish commissions
✦ Finish incentives from 2013
✦ Finish freebies

✦ Open up a bribe shop
✦ Open up a joint shop with SilentBreeze90

✦ Be successful in school
✦ Get wishlist items...


Journal
Dollie's Storage
Extra spacing to place more things.
Multimedia
Signature





Quote me.

:: Desiring ::
Brother of Twisted Virtue
Knowing Aether Emporium
Accidentally Archer

▄▀▄▀▄▀▄▀▄▀▄▀▄▀▄▀▄▀▄▀▄

Sponsor my nudists!




Collab Art Auction