I- ChiiDoLL -I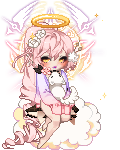 Details
Last Login

04/23/2015 6:31 am

Total Posts

54757
Location

Hong Kong

Occupation

Artistic Hubbeh

Birthday

04/08

Website
---
Interests
About
... I am so rusty with art. It took about an hour to just do the flat colors alone, I didn't even keep track in how long the line art itself took me... OTL I need more practice.

Trying to get these ridiculous items... and as for the black wings, I placed them for my upcoming joint auction purposes (theme is angel and demon-- you can guess which one I am~) o 3 o

If you would like to offer something for art, please PM me -- I will listen and see if it's an equivalent exchange.






:: Dream avatar ::






Under construction



Journal
Dollie's Storage
Extra spacing to place more things.
Multimedia