Hyakka Ryouran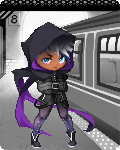 Last Login: 12/06/2013 10:44 pm
Registered: 05/26/2005
Gender: Female
Location: Around the World.
Birthday: 07/26
Equipped List
Interest Tags
Favorite Movies/Anime
Favorite TV Shows
Favorite Reads
Favorite Music/Bands
Hobbies/Interests
Wish List
About
Friends call me Anji
Im a Guy, I'm 27, Gamer, Airforce bound Airborne Cryptologist. Alternate account's include; CyberBrainSclerosis and Hibana Nightshade.

I'm on hit or miss because i just get busy with life in general. I like making friends.

Im currently looking for Mizuki's Glaive and a bunch of other stuff. Until i brush up on my Css and such you cant see the wish list but ask and i can always pull off the top of my head something im looking for im not exactly rich but i do alot of lay away plans lol hold it while i raise golds for it. :3

Journal
All Access Atora
just stuff that happens i think people will care about.
Signature
Looking to by a Mizuki's Glaive!!! :3