hurriedly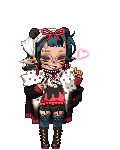 Details
Last Login

12/28/2014 8:37 pm

Member Since

09/20/2010
Location

Quezon City, Philippines

Occupation

Student

Gender

Female
About

Hi guys, you can call me Chas.
I'm female, 18, and live in the Philippines - if that's relevant to you lol.
I'm currently a college sophomore at the University of the Philippines Diliman, majoring in Political Science.

I like games. Mostly online ones, though I haven't had time to play any more because of college. I've played Dragon Nest (SEA), Phantasy Star Online, and Elsword.

I love to draw. I've drawn since... forever really. I've gotten inspiration from all over the internet and started to practice drawing digitally in 2011.

I really enjoy watching anime, and so far, I have two full hard disks filled with anime shows. I'm in the LoK, TLA, Adventure Time and other cartoon fandoms. Feel free to chat with me about anime shows.
Q 3 Q <3

I've been a member of gaia since december 08. I've moved accounts a number of times and am so far staying put here, heh.
Here are some of my links:
Multimedia
Signature

ART BY POND OF WISHES