Forums
Posts per Day: 0.67
Total Posts: 2486
Huey_Freeman800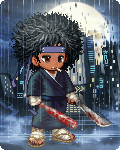 Last Login: 03/01/2016 1:56 pm
Registered: 10/04/2006
Gender: Male
Location: Grandad's house.
Equipped List
Interests
Favorite Movies/Anime
Favorite TV Shows
Favorite Reads
Favorite Music/Bands
Hobbies/Interests
Chya.
As I stand on my soap box I shall change the world with my words.

"White folks only want to hear the good s**t: life eternal, a place in God's Heaven. But as soon as they hear they're getting this good s**t from a black Jesus, they freak. And that, my friends, is called hypocrisy. A black man can steal your stereo, but he can't be your Savior. "
-Rufus the 13th apostle

Yeah what he said.
Journal
My thoughts on why the world sucks.
Ya know, me just ranting and trying to convince you Jesus is black.