How To Break A Heart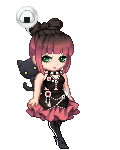 Last Login: 03/10/2014 6:45 pm
Registered: 02/28/2007
Gender: Female
Interest Tags
Favorite Movies/Anime
Favorite TV Shows
Favorite Reads
Favorite Music/Bands
Hobbies/Interests
About
My name is Joy and I'm 20 years old. I'm a photo major living in South Dakota. My interests include homestuck, korra, doctor who, and crying over my otps. I have a tumblr, the link is in my sig. Follow if you'd like.
Journal
The going-ons in a not-so-perfect life
It's just what I'm using to write my person thoughts and feelings.
Signature


Tumblr