Hollisaurus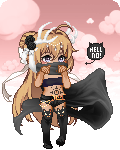 About







I just really want a Kiki and Coco Kitty Plushie
Current age: 20 years.
currently: taken.

Currently reside in Texas
Avid pot smoker
Avid LSD taker
Actually just you're avid drug addict. Besides that hard s**t...like Meth. ew.
Adventurer.
Traveler.
Almost friend-less.
Avid nap taker.
Huge cat lover.


My name's Hollie

I'm gonna tear out the thread,
One by one,
From your skin.
'Til your bones feel embarrassed by all the attention.
my name is A Fifth of Whiskey on SoliaOnline.com


demonlord1313 is my CB crush

Journal
working.
my rantings
whatever goes on, goes on
Multimedia