hiphopgrl105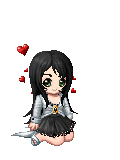 Last Login: 10/13/2007 1:03 am
Registered: 01/23/2007
Gender: Female
Signature
Equipped List
Interest Tags
Favorite Movies/Anime
Favorite TV Shows
Favorite Reads
Favorite Music/Bands
Hobbies/Interests
Wish List
About
I love pirates and riches. I love Orlando Bloom. I love everything in the world except for bullies. I love making new friends and exploring new places. I also love meetng new people and watching scary movies.
Journal
My Place in the World
My name is hiphopgrl105 and I love to watch scary movies, hang with friends and with my boy, and play my guitar! Oh and I love meeting people on gaia, so feel free to become my friend!
Signature