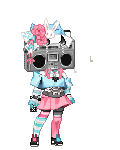 Birthday: 03/12
About
Hello! Welcome to my profile!

My favourite types of music are electronic house, nu disco, future bass, glitch hop, all that jazz.
My main fandoms include Undertale, Steven Universe, Red vs. Blue, and RWBY.
I love animals, especially cats and manta rays.
My favourite colours are teal and gold, but I like virtually any neon on black.

Thanks for dropping by!