Hi-Potion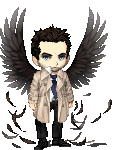 Details
Last Login

07/11/2014 7:24 am

Member Since

12/31/2005
Location

Ivalice

Gender

Male
---
Interests
About
Things you can know about me:
-You may call me: Jai, Jai-Jai, Roxas, Hi-potion, Hi-Hi, or Potion!
-Where in the world is Hi-Potion? California, babeh! ;D
-College Major: Criminal Justice/Psychology
-Gender: I am of the female gender
So, yeah. Im a major fangirl of many, many things. At the moment I'm fawning over: Hetalia, Sherlock, Supernatural, Homestuck, Marvel/DC comics, Doctor Who, My Little Pony, and a few other things that escape me at the mo~ I also love using obscure/old slang words. Like "dandy" and "spiffy" and "cool cat". Are you hip to my jive? Slide me some skinnnn, soul brother! Also. Im a cosplayer. Both on here and in the real world.


What I look like:

Friends
Viewing 12 of 492 friends
Journal
Rhasphodia's Book.
In here I plan to put mini stories and Ocs, and plots and stuff liekt hat. ^^
Multimedia
Signature

by Purgaytory, my Dean


Want rare items? Want gold? Can you draw? Join the art contest~