Hey Its Gabzie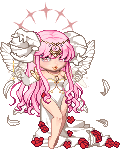 Details
Last Login

08/15/2017 10:23 am

Member Since

01/16/2007
Gender

Female

Birthday

10/12
---
Interests
About


Hello♥.
You can call me Gabz.
I'm 26.
Been on Gaia since 2004.
I play video games & watch anime.
Mommy-to-be to twins, A boy & A girl (Due in August 2017)♥~!
I am married in real life to the most amazing man on earth
& I Love him very much♥.

감사의~!


Multimedia
Signature

Questing: Avi Art
Art by Chin City♥[/size:c3a76e0d2c][/color:c3a76e0d2c][/align:c3a76e0d2c][img:c3a76e0d2c]http://i.imgur.com/97znvel.png[/img:c3a76e0d2c][/align:c3a76e0d2c]