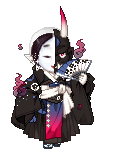 Registered: 01/23/2006
Birthday: 08/18/1991
I'm Mon', a 22 year old Game Artist in the land of mills, clogs and legal weed (i don't 420 er'day im sorry).

I draw and game a lot, which is handy since it's also my carreer now.

I'm also here:
Tumblr
deviantArt

This is my cute bf.




idk, we could destroy s**t or something.


PKMN X & AC:NL - 3DS Friend Code: 3797-6630-0599


►◄►▼►▲◄


ᴅᴇᴠɪᴀɴᴛᴀʀᴛ ||| ᴛᴜᴍʙʟʀ