Hello Britty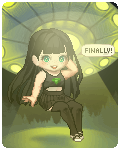 Gender: Female
Birthday: 09/09
About
Hi, my name is Brittany.
You may call me

Britty

.
I'm twenty-four years old.
I have an amazing boyfriend named Joe.
We've been dating since November 1, 2009. ♥

My pets are my babies. ♥
I have four cats (Rascal, Grayson, Colby, Lottie)
and a chihuahua (Tangie.)

I love Harry Potter, Doctor Who, A Song of Ice & Fire, anime, Animal Crossing, and Pokemon.
My favorite Pokemon are Flareon, Sylveon, and Meowth.






Comment