Hellfest 2013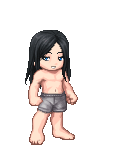 Birthday: 01/10
Equipped List
No items equipped.
Interest Tags
Favorite Movies/Anime
Favorite TV Shows
Favorite Reads
Favorite Music/Bands
Hobbies/Interests
Wish List
About


Sensual, rebellious, and intuitive, I can truly be a work of contrasts - an innocent appearance clothed in dark clothing, and a shy smile with eyes that suggest a darker nature. I am at once easy and hard to approach, as my energy draws people to me, while my intensity and distrust pushes people away... for maybe more than any other personality, I hide away deep in a fantasy world of my own creation, letting few, if any, in. Searching for the one person able to understand my need for something more, someone to protect me and share that mysterious world with me, this makes me seem lost and wandering, the loneliness sometimes reflecting an inner anger - as I cannot be content until I have been found and claimed, sensually and emotionally. That's my best friend from hell. Marilyn Manson next to me. xDD.
In real life, I play guitar, a Fender Jazz Bass. I do pedals too, Taurus, as you know what that is. I'm 19, live in western US. Anything else ask but I'm not into depressed people and ain't a shrink. If I had enough Jack, I might consider it
Hellfest is Ozzy's term for this years tour.

My personality best corresponds with these associations:

Japanese Element: Sky

Chinese Zodiac: Dog

Color: Black

Generals gathered in their masses
Just like witches at black masses
Evil minds that plot destruction
Sorcerers of death's construction
In the fields the bodies burning
As the war machine keeps turning
Death and hatred to mankind
Poisoning their brainwashed minds.
Journal
Reflections
Just thoughts, dreams, etc.
Signature