About
HELEN HAS LEFT THE BUILDING!





Donations Made:


Axel`-163g
LittleDove2-80g
Th3 R4v3n 100g
Bryandarock1-Shoes
Soubi134-70g
[Midol Monster]-100g
DarkPhant0m-90g
Moiriana the Fair-100g
Cat_Chi-130g
Shadow charmer-150g
J-Naet-200g
Ani_Mania-100g
Less~Than.Thr33-133g
singalinger-135g
soma104-100g
catprep15-85g
Dark_Devie-115g
dark_kitten_156-156g
S.K.U.N.K.Y.M.U.N.K.Y.-115g
Kitchene-50g
Grint_Lover_Forever-100g
ireece-200g
Little Boy Death-510g 5 tokens
Xx_Miosio_xX-290 items
XxChelsxX-55g tiems
Ciarra-10g bugs
GHZealot-1k items
Zenobian Masquerade-150g ticket
BlindGuy15-1k
xXSchoolBoyXx-1k
~Lana the butterfly~-930 Items
Moke_moke-1k cans
Canabalistic hobo`-items
Kenlovesoreo-555 items
neilson_cotton-1132 items
PrincessAdia-2 shirts
HelenX-items 2.75k
HelenaSakura-Red shirt, White paper cat band, items 2k
Rainbowbast-wallpeper tile
Meroko the Bunny-items tickets
make_me_wanna-items tickets
Disturbed Undertaker-50g (5x10g lol.)
Panda-Baka-15 tickets item
RyanShori-13 inks
Insanity_Of_The_loveless-trash, flowers, bugs, ink, feather
bloobelle-500g
Mr Cuddlebottoms-550g



Donations Recieved:




wierdmax-14360g


Aggress-Aug. 2006 letter-Angelic Mic.


capitan squish-4150g


qwaychou-2k items


~Lana the butterfly~-6042g items


bigman123-10k


BlindGuy15-8k items


Silent Expressor-2.5k


Tsukihime Osaka-shirt


bigboi2446-flame pants


morbed_dead_bodies-435g


Th3 R4v3n-127g


MysticDiva-100g


dark_kitten_156-96g


NightZhadez-Socks


HelenX-3k items


HelenaSakura-5k


robotbirdhead-Yellow Neck Ribbon


Aisha_Transform-Black Leather Mink SKirt


make_me_wanna-1k


Chaos_Bunny-5k


The-504-Kid-500g


Lemon Paranoia-Trampoline


Vanilla Badger-Those 70s red pants


Jorjiana-Chain link belt



Thanks for Birthday donations!

<333


Ballerina Circlet---bigman123


25g---Huntress Thorin


500g---Stellacandente


1000g---Ferret455


1700g---HelenX
:heart: Missy Pearl Dress---Lemon Paranoia
:heart: bigman123-18k! 0.o

Thank you Smoothie de Bootie for this Avii Art! :heart: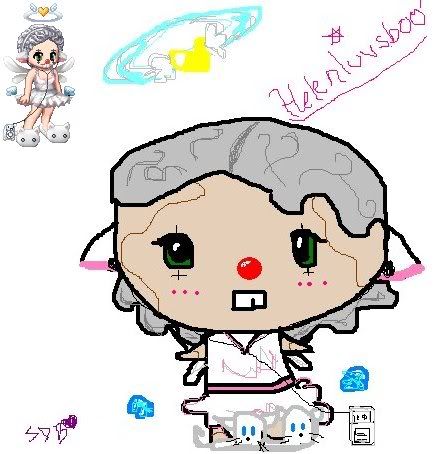 I <3 this, from dark_kitten_156!




Favourite random anime pic - if you know where it's from, PM me!




Gothicly Punk Harry Potter - The Golden Trio - I <3 this pic!




Link to me - Using this image:




Copy and paste the following code - remove the Asteriks (*) to make it work!

[*url=http://tinyurl.com/qte53][*IMG]http://tinyurl.com/mmrfn[/IMG*][/url*]






Friends
Viewing 12 of 42 friends
Journal
Helen's Random Journal...
Just the random and often strange drabbles written by some slightly insane Canadian teen.
Signature
I've left Gaia. Sowwy. But I DO still wanna participate in LITERATE rps through e-mail.


I'll check my pms until the end of 2008. If you wanna LIT rp or continue one, pm me BEFORE Deceomber 31st, '08.


I believe in Jesus Christ my Savior.