HeIIena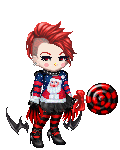 Gender: Female
Birthday: 11/26
Wish List
About

I do not come on here anymore. If you'd like to keep in touch, I can be reached through my tumblr. It was nice knowing you guys.
Tumblr
The only way to contact me.
My name is Casey.
I rely heavily on first impressions so don't ******** it up.

Signature
Questing Custom Cut. And then the 300 million needed to finish my avatar.

Quest Thread


Quote me. Otherwise I don't know you're talking to me.