Please buy from Heihachi-dono ♥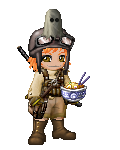 Welcome to the store of Kanas official repairman! My name is Hayashida, Heihachi.
And I sell some items to be able to afford more rice.
I looove rice. Not as much as my wife but nearly.
What? You thought I was dead? Yeah I thought so too... well destiny sometimes goes strange ways.
I guess my Teru Teru Bouzu protected me from dying, cute little talisman Lao tinkered.
So, can I sell you something? My stomach is asking for more rice...