Haru do Po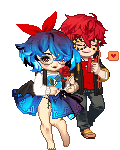 About

WELCOME TO MY PROFILE!

Name:
Harumi.
Age:
21 years old.
Nationatily:
Brazilian.
Descent:
Japanese and Spanish.
Languages That Speak:
Português, English and Español.
Countries I have visited so far:
France, Belgium, Italy, Vatican, Mexico, Argentina, Uruguay, Dominican Republic and Spain.
Favourite colours:
Black, white and pink.
Favourite Subjects:
History, Geography, Economy, International Relations and Politics.
Learning Languages:
Italian and German.
Favourite Month:
May.

ABOUT ME

As you may know, my name is Harumi and I'm 21 years old. I'm currently studying Tourism Management in the college and Fashion Design by myself.
I really love to travel, make new friends and learn more about different cultures. I'm actually trying to learn Italian and I'm training my English, German and Spanish as well. Hopefully I'll have French classes at college.

Normally, when I'm bored, I like to listen some music, write, draw and read. I also like to watch anime, read manga and watch some series too. During the weekends, I like to visit some art expositions and historic places of my city, São Paulo. I live in Brazil now, but when I was younger, I used to live in Japan. Of course I miss Japan and the life I used to have there, but I love Brazil too and all the diversity it haves.


PEN PALS

Oh, yes! I love snail mail and I have some Pen pals around the world. But no matter how many Pen pals I have, I want to always have more, because each person is unique and have different experiences to share.


CONTACT ME

Remember, random PMs and comments are always welcome. If you want to add me on Skype, you have to first be my friend and I need to know you very well.
People with bad behaviours will be blocked.
Have a nice day~~!


Journal
♥ Around the World ♥
I'm planning to tell you about the countries that I've already lived or visited. Or maybe just talk about other cultures.
Signature
Help me with my Dream Avatar, please!