Hamletmaschine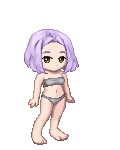 About
My name is Vivs.
I'm a full-fledged Canadian!
I'm an Interior Decorator and rendering artist.
I am the owner of Studio V. Decor and Designs, and Head of Branding and Creativity with Ink Slingers Inc.

I've been a Gaian for 6.5 years, and have been RPing with the best of the best for 4 of those years.
I am a huge Star Wars fanatic and crazy cat lady.

I'd like to thank my amazing friend Pax Britannica for this amazing profile! Thank you Mumsie!



Hit me up for RP's and chats!

Signature