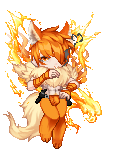 Gender: Male
Birthday: 01/22
Wish List
Interest Tags
Favorite Movies/Anime
Favorite TV Shows
Favorite Reads
Favorite Music/Bands
Hobbies/Interests
About me..,
I guess I am not all too interesting...

I am easily influenced and manipulated by things that other people say or do around or to me.
I try my best not to offend or annoy anyone, but I sometimes fail at this simple goal of mine.
When you see me in towns, if you say "Hi" to me I will try to be polite and say "Hello" back.
If you say "What's up?" it is a tradition of mine to reply with a simple minded " *looks up* Currently? The sky." or something of that nature.
I do hope that we can be friends.

Hello there... Uhhhh...
Hi, it's just me saying thank you for veiwing my page, and that I hope you have a wounderfull day!

Uhhh... well...


yeah, that's kinda all I had to say... so thank you for reading this far, I guess..?

Okay... You can stop reading now...

No, seriously.... stop....


Okay.. there is a time and a place to stop, and bolth the time and place is right here and now... so please just.. stop.. please?




Okay... IT IS TIME TO STOP!!!