H a i k u|D| r e a m s
Currently
Haiku
is...
Obsessing over || Strawberry Swirl Cheesecake o3o
Listening to ||
My playlist;
[Listen]
Watching || Bleach, Naruto Shippuden, Nana, K-ON!, Toradora ;O
Reading; Manga/Graphic Novel(s) ||
None at the moment
Reading; Books/ Novel(s) || The Crimson Petal and The White, Fanfic
Working On ||
Not killing someone o.o;;
Playing || Games on Miniclip, OMGPOP, God of War II, CSI: Dark Motives, Animal Crossing: Wild World
People Call Me || eva, dreams, haiku, lovey dovey coo coo clock, and "Hey you... yeah you, over there." (My real name's a secret, shhh)
Graced The Earth ||
May 24, 1988
Age || You do the math
Nationality ||
American
Ethnicity || Dominican and Puerto Rican
Hometown ||
Manhattan, NY
Currently Residing || Little Canada, MN
Languages ||
English, American Sign Language
Height || 5'2 1/2"
Eye Color ||
Dark brown
Piercings || (5) Snakebites, both ear lobes, left ear cartilage
Sexuality ||
Bisexual/ Ambisexual/ Pansexual
Most Favorite Authors || Dean Koontz, Francesca Lia Block, Anne Rice, Charles De Lint, Charlaine Harris
Most Favorite Movies ||
Snatch, The Fifth Element, The Professional, Fight Club, The Transporter, Terminator 2, Audition, Old Boy, Aqua Teen Hunger Force Film For Theaters, Crank
Most Favorite Foods || Eggplant, Cold Pink Alaska Salmon, Rice
Most Favorite Candies ||
Skittles, 3 Musketeers, M & M's
Most Favorite Colors || Bright green, Blushing pink, Shocking-on-white red, Sky blue
Most Favorite Clothing Style ||
I'm a different person everyday, I don't like to put myself in a box and say "THIS" is my style.
Favorite Quote || "Think for yourself and question authority."
Things I Love ||
Sleep
Needles
Funky nail polish
Fruits & Nuts
Horror & Thriller films
Books
The erotic kind of paranormal romance (especially the vampire kind)
Video games
Things that are weirdly gorgeous
Mysterious people
Autumn
The Sin lust
To dress up and play pretend
The shocking color of blood
Things I Dislike ||
Stuck up people
People that know they're idiots, but put no effort into bettering themselves
Self-centered people
Thieves
Vomit colored pink
Movies that don't stay true to the books
People that know they're beautiful, and say they're ugly
People that don't listen to both sides of the story
A lot of people >.>
Things I Hate ||
Onions
Olives
Bell peppers (green, red & yellow)
People that nag nag nag
Hot & muggy days
My Friends Describe Me As ||
Fun, a good advice giver,
friendly
, obsessive,
elusive
, honest, caring,
expressive
, creative, beautiful, Introverted.
I'm a music
lover
|| a writer|| an artist||
movie buff
|| a gamer|| avid reader||
anime
and manga lover.
Most common feeling ||
Boredom (I'm easily bored... guess that's because I'm a
Gemini
).
I am
very
opinionated.
I'm
Gay
, yay! Deal
with
it.
A quote that I
feel
applies to me || "I'd much rather be
hated
for who I am than
loved
for who I'm not."
ADD
MOI?
|| MSN:
ASK
ME.
Please CLICKY so I may bite you! Muahaha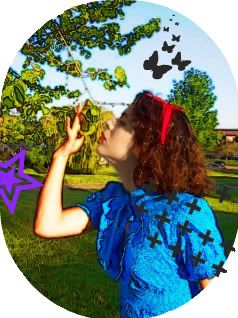 "ahhh nature smells good" XD
Moar Piccys in my journal!
PLEASE PLEASE PLEASE
don't send me a friend
request
if I have no idea
WHO
you are. I don't accept
random
adds... so if you want to be added..
TALK
to me. I don't like friends that are just here for
decoration
. I will DELETE you, if you and I don't talk every now and then. Either PM me,
Comment
me, talk to me on MSN or email me, I'll be
glad
to hear from you!
Otherwise, thanks for visiting my page!!
Have fun
.
And a special
THANKS
for reading all this crap above and below. ^_^
MUSIC/ ARTISTS I LIKE||
Electronica/ dance, techno,
R&B/ soul
, hip hop/ Rap, smooth jazz,
international
, jungle, rock, punk, pop,
classical
, funk, blues, reggae, alternative, a little bit of country, Beyonce,
Pink
, Pink Floyd, Justin Timberlake, Britney Spears, Evanesence,
Creed
, Tenacious D, Gwen Stefani,
Coldplay
, Jason Mraz,
No Doubt
, Ludacris, Daft Punk,
Korn
, Alice deejay, The Cranberries, Ok Go, My Chemical Romance,
Floetry
, Black Eyed Peas, Mary J. Blige, Whitney Huston, Micheal Jackson, George Micheal,
All-American Rejects
, The Dixie Chicks, Jewel, Bjork, Lauryn Hill, Destiny's Child, Ciara,
Mika Nakashima
, BoA, Kat DeLuna, Lil' Mama, The White Stripes,
Velvet Revolver
, Kelly Clarkson, Eve, Aly & AJ, Rihanna, Shakira, Jennifer Lopez,
The Beatles
, Hellogoodbye, Young Love,
Timbaland
, Moby, Origa,
Paramore
, Flyleaf, September, Bob Sinclair, Skye Sweetnam, Linkin Park,
System Of A Down
, Wyclef Jean, The Fugees, Gorillaz,
Katy Perry
, Lady Gaga, Train, Metro Station, LMFAO,
Telepopmusik
, Kanye West, Lil' Wayne,
t.A.T.u
, Michael Buble, Calle 13, Perfume, Maroon 5, N.E.R.D., M.I.A.,
Madonna
, Will.I.am, Audioslave,
The Veronicas
, John Legend, Gogol Bordello, Tokyo Jihen, Slipknot,
Gackt
, Queens of the Stone Age, Kylie Minogue, Muse, Dido, Sixx: A.M.,
Fischerspooner
, Fergie, Imogen Heap, Aural Vampire,
Wolfgang Amadeus Mozart
, Velvet Acid Christ