About
I don't usually talk about myself often, but I figured that I should probably write at least a little something to give you guys a small idea of who I am. So, here goes~
I'm not a person who likes to take things or myself very seriously. But, of course, should the situation warrant it, I can be as serious as needed. I'm pretty laid back and like to take it easy. I can strike up a conversation with anyone, as long as I'm in the mood, so I'm pretty friendly, too; at least, I like to think so.

Well, that's about all I feel like putting here, so move along! Oh, but watch your step, I might have been playing with a few claymores around here earlier...
This is expiation.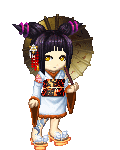 Last Login: 05/27/2010 10:53 am
Registered: 02/17/2007
Gender: Female
Location: I live in an impressive cardboard box mansion!
Occupation: Battling zombies, of course.