GreyFox349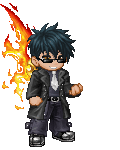 Last Login: 10/27/2009 9:32 pm
Registered: 06/21/2004
Gender: Male
Location: Macomb
Equipped List
Interest Tags
Favorite Music/Bands
Hobbies/Interests
About
I'm a quite fellow who is just the nicest guy to be around. You have to be on top of me if you want to hangout or talk as I am also easily distracted and forget even the simplest of things.
Journal
GreyFox349's Journal
Too all who wish to dive into my confused (and often tired) mind.
Signature