Greteh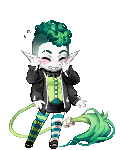 Details
Gender

Female

Birthday

03/12
---
Interests
About
> 24 / Female / Dork / Chicago / In love with people's character(s)
> Taken by my Munchkin
Noxxia
> I like to draw. A lot. Digitally mostly (I stream art too)
> I also play lots of video games when I'm not working or drawing. ((Huge Nintendork))
> Super social and friendly apparently lmao
> You can find more of my art by clicking the buttons on the side.
(If you would like to support me by checking out my RL commissions, my Redbubble Gallery, and/or my Patreon, I would love you to death. Srsly)


Deviantart
Facebook
Tumblr
Picarto
Twitch
Redbubble
Patreon
Journal
Insert something Witty here
. . .
Just writings and what-not for whomever it may concern
Signature
I make Art & Pixels

RL commission me so I'm not constantly broke and struggling
Please I have a Girlfriend & like 18 plushes that need taking care of
RL Commissions

Buying these Items