GreeneyedPhantom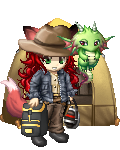 Last Login: 04/17/2014 7:13 pm
Registered: 01/26/2006
Gender: Female
Interest Tags
Favorite Movies/Anime
Favorite TV Shows
Favorite Reads
Favorite Music/Bands
Hobbies/Interests
About
Name: Leslie

Nickname: Les

I LOVE to RP, especially when based on a book, movie, or anime. I don't mind tweaking my character to fit the setting, but she's usually a Shapeshifter named Lorelai Dannehur. If it fits into the RP, I give her the career of a dimension hopper.

Journal
GEP's Journal
This is just in case I have any thoughts that need to be given a voice. Warning: Read at your own risk. Material may be too boring to handle. Still, comments are welcome and appreciated, as always.
Wish List
Signature
Quest for CoCo is complete!



NOW QUESTING:




Proud fan of Newsies, Harry Potter, Phantom of the Opera, Inuyasha, Naruto, Bleach, and Lord of the Rings.

If anyone wants to do an RP from one of these titles, please feel free to PM me. Your own ideas are also welcome. I'm particularly interested in doing a Naruto or Gaara RP. Check my journal for starter posts and send me one via PM if interested.