GreeneyedPhantom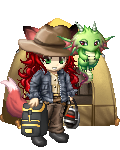 Last Login: 04/22/2014 7:57 pm
Registered: 01/26/2006
Gender: Female
Interest Tags
Favorite Movies/Anime
Favorite TV Shows
Favorite Reads
Favorite Music/Bands
Hobbies/Interests
About
Name: Leslie

Nickname: Les

I LOVE to RP, especially when based on a book, movie, or anime. I don't mind tweaking my character to fit the setting, but she's usually a Shapeshifter named Lorelai Dannehur. If it fits into the RP, I give her the career of a dimension hopper.

Journal
GEP's Journal
This is just in case I have any thoughts that need to be given a voice. Warning: Read at your own risk. Material may be too boring to handle. Still, comments are welcome and appreciated, as always.
Signature
Quest for CoCo is complete!



NOW QUESTING:




Craving How to Train Your Dragon RP with someone willing to play as Hiccup and Toothless either in group or private thread.