About
Heh.. i am the combination of Kotsu and Gouka, A warrior More powerful than any seen by Either Sakujinians, OR D.A.W.N. scientists... we have combined, and now. we are one. heh.. i'm cockier than both of them, and am a p***k to almost everyone.... although there are certain few that i fight for, no matter what.
How Goutsu came to be: In the battle against Cross, the two were vertualy killed, but their spiritual essence was used to form a new being, and thus Goutsu came into existance. and trust me, he ******** Cross up...
I, Goutsu, Use the Seika-Ainoko-Ittou-Ryu(heaven fire hybrid style of the sword); a combination of both kotsu's and gouka's fighting styles. so basically, a style you DO NOT want to be the test dummy for... if you see it that you can defeat me, give it a try..... and have fun.... because i'm always looking for a good fight.

DREAM AVI!!!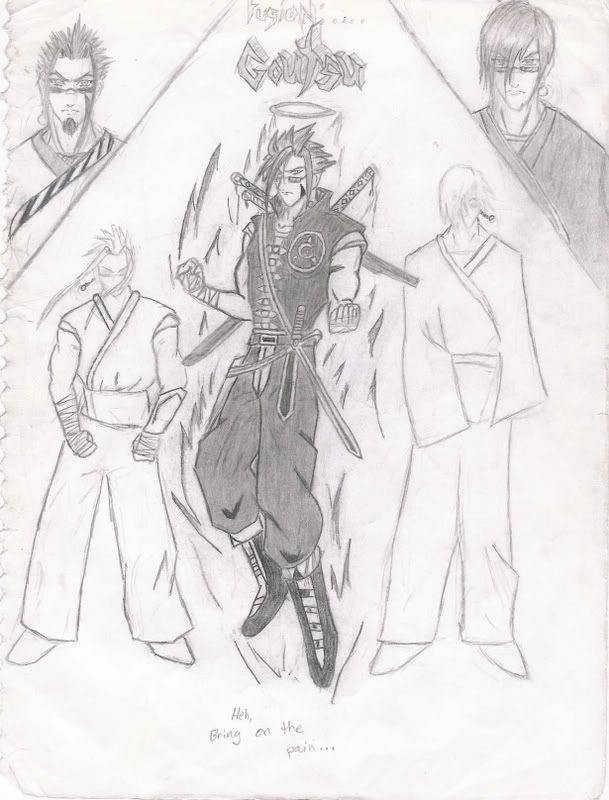 Heh...
Friends
Viewing 12 of 19 friends
Journal
Goutsu, the Potara Warrior
Goutsu.... the name is a combo between two of the most skilled fighters.. and now... i have been born, and have taken it to the next level of power!!
please, give me a challenge.. or else i'll get bored!
the journal of times past, cause what ever you write now will be known as something you wrote five minutes ago
Multimedia
Signature
dream avi



The name's Goutsu.... REMEMBER IT!